Scroll down to review the free insightful, downloadable articles organized under the steps of our world-class methodology. Our publications include many of the most influential pieces ever written on merger integration.
PRITCHETT Consulting Clients, Merger Integration Certification Workshop Attendees and Website Subscribers can access all the articles plus all the presentations, playbooks, books, checklists, case studies, assessments, webinars, research, videos, tools, and templates on MergerIntegration.com.
Free
Learn when key people most often jump ship in a merger and how to keep them on board.
Free
Beware of integration do-gooders.
A wait-and-see attitude is reckless.
Free
How you begin the integration carries heavy influence over how you'll finish.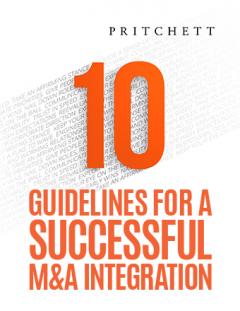 Free
10 crucial rules to follow.
Free
​​​​​​​Insider Secrets, Shortcuts, and Uncommon Sense For Merger Integration Success
Free
Three practices that position your new director group for merger success.
Companies merge for at least one of three reasons.
Anticipate issues that could slow the realization of synergies.
Free
Today versus the old days.
Free
Examples of M&A integration governance in regards to guidelines, meetings, performance reporting, confidentiality, and document management plus links to presentations on governance
Step 6: Develop Culture Integration Plans Step 7: Develop M&A Communication Plans Step 8: Develop Staffing and Retention Plans Step 9: Develop Project M&A Integration Plans

Free

Integration teams can make progress more quickly when five areas are clearly defined in their plans.

Free

Top ten key rules to follow.

16 questions to address.

Reveals the most common complaint of employees in a typical merger.

Free

Includes information about PRITCHETT's consulting services.

Step 10: Day One & Integration Execution Step 11: Capture Lessons Learned

They will probably appreciate the special attention.

Free

Document the lessons learned

Free

21 questions to ask Acquirer and Acquired Company employees to capture insights.

Free

​​​​​​​Insider Secrets, Shortcuts, and Uncommon Sense For Merger Integration Success