Our Post Merger Integration Methodology
PRITCHETT's approach is easy to follow and well-organized. It's a streamlined, repeatable process not weighed down by extraneous junk. We made room for more of what matters by eliminating what doesn't.
Post Merger Integration Consulting
Supporting Content:
PRITCHETT is truly different than other post merger integration consulting firms in five key areas and our long list of clients value our uniqueness.
1) True Post Merger Integration Experts
While other post merger consultants say they have expertise in integration, our website shows that we actually do. PRITCHETT has populated MergerIntegration.com with playbooks, tools, videos, checklists, assessments, and presentations from hundreds of our M&A integration consulting projects. Our rich, online library of content can help acquirers quickly mobilize and empower their integration teams. No other firm offers anything remotely comparable.
2) Unmatched Credentials
PRITCHETT has specialized in acquisition integration for 35 years, longer than any other firm, and consulted on M&A integrations for deals valued in total over $350 billion. Plus, we have trained 30,000 managers in merger integration, far more than anyone else. And we've sold two million of our books on post merger integration, more than all other authors combined on that subject.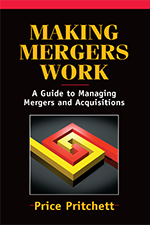 3) Play Big or Small
Our firm has consulted on the largest pharmaceutical, oil and gas, financial exchange, and bank M&A integrations in history. And on smaller deals in practically every industry. We can easily staff a project with dozens of senior, well-experienced M&A integration consultants, or even just one, based on the size and complexity of the acquisition and bandwidth of a client's integration teams.
4) Experience
PRITCHETT does not rely on twenty-somethings on big or small projects. Each of our consultants has at least 15 years of post merger integration experience. They know, without any coaching, how to:
Build credibility quickly with management and rank-and-file employees
Balance competing priorities between scope, time, cost, resources, and risks
Customize an integration methodology on the fly
Juggle multiple tasks that require urgent attention
Identify hotspots before they flare out of control
Manage people issues with finesse
Reconcile mission-critical cultural differences
Given that millions are at stake, and there are no dry runs, acquirers should think twice before they turn their M&A integration into a training ground for consultants.
5) User-Friendly Methodology
PRITCHETT's post merger integration methodology is easy to follow and well-organized. It's a streamlined, repeatable process not weighed down by extraneous junk. We made room for more of what matters by eliminating what doesn't. Some M&A advisors pitch integration methodologies with complicated rules that create confusion and add no value. In some cases, acquirers feel compelled to hire consultants on an ongoing basis to navigate the very complexity built into the process by the same consultants.
An effective methodology should make an organization more capable and less dependent on outside experts. PRITCHETT's approach is highly teachable. Not over-engineered. A person needs common sense and resolve, not an advanced physics degree to understand and apply it.
For more information about our consulting services, call 800-992-5922
Post Merger Integration Training
PRITCHETT has consulted with top executives on many of the most successful integrations in history. And our M&A training has been delivered to over 30,000 professionals in 24 different languages in 50 different countries.
In our 4 day M&A Integration Certification Workshop, participants learn PRITCHETT's proven step-by-step approach for planning and running fast, effective integrations. The workshop has been developed out of actual client assignments. As a result, it has the authentic quality that comes from surviving trial by fire.