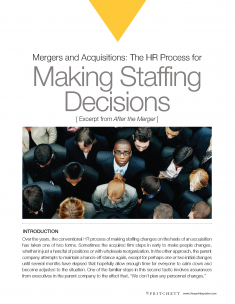 Register 2 months in advance and save $1,000.
Over the years, the conventional process of making staffing changes on the heels of an acquisition has taken one of two forms. Sometimes the acquired firm steps in early to make people changes, whether in just a handful of positions or with wholesale reorganization. In the other approach, the parent company attempts to maintain a hands-off stance again, except for perhaps one or two initial changes until several months have elapsed that hopefully allow enough time for everyone to calm down and become adjusted to the situation. One of the familiar steps in this second tactic involves assurances from executives in the parent company to the effect that, "We don't plan any personnel changes."
In both of these approaches, however, the critical element that's missing is a systematic, incisive assessment of what the acquisition brings vis-à-vis management and technical talent. Typically, the acquiring firm will take a piecemeal approach, wherein a few people here and there are evaluated in a professional fashion. Or a number of people may be appraised in a sketchy manner but so superficially that much room remains for potential problems to develop.
Top management in the acquiring firm might argue that it is best to allow some time for them to get to know the abilities and potentials of the management team in the target organization. But that assumes that those people will hang around long enough ...