Free Access
Document the lessons learned
21 questions to ask Acquirer and Acquired Company employees to capture insights.
​​​​​​​Insider Secrets, Shortcuts, and Uncommon Sense For Merger Integration Success
This webinar challenges the conventional wisdom that M&A is a loser's game.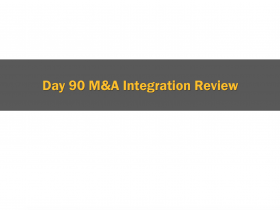 9 Slides
Paid Access
Who Should You Interview and What Should You Ask to Capture Lessons Learned?
1 minute 24 seconds
Feedback on Merger: Interview Guide
The objectives of this five-page guide are to
Collect and summarize information to guide the integration effort
Provide a channel for feedback
Example of a Lessons Learned Report and Lessons Learned Report Word Template
The two-page document is an example on the data collected by The Steering Committee, Integration Team, and Task Forces about what went well during a merger and what should be changed for the next Integration.
The two-page Lessons Learned Word template is also provided.
Save Lessons Learned: Post-Merger Integration Best Practices Tracking Tool
The Steering Committee, Integration Team, and Task Forces collect information about what went well and what should be changed during the next Integration. This meeting should be conducted before the Integration teams have disbanded. Lessons Learned should be fed back to the next Steering Committee and Integration Team for the next Integration Planning effort.
Two-page example and two-page PDF template.