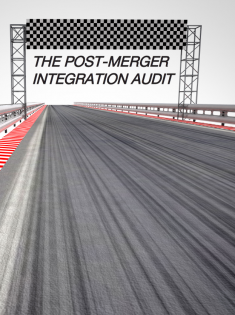 Register 2 months in advance and save $1,000.
Post Acquisition Audit Program
A Post-Merger Integration Audit answers key questions about the last acquisition:
How were the events, decisions, communications, and actions surrounding the merger handled?
What could have been done differently to make the integration easier?
What additional actions remain unfinished?
How have shareholders, customers, and employees perceived the merger?
If the company were to merge/acquire again, what should be done differently?
Approach:
Determine the depth of review required
Interview or conduct written surveys with executives, managers, employees, and if appropriate, customers and board members
Combine the qualitative and quantitative data to provide feedback and recommendations
Deliverables:
Summary report with recommendations
Compiled interview notes
Analyzed survey results
Presentation summary
Survey:
Previous merger/acquisition experience
Ratings of overall merger and announcement success
Effects of merger on productivity
Satisfaction with pace of merger, consolidation of products, offices, systems, and management efforts to answer employee questions
Benefits of merger to employees, customers, and shareholders.
Although only quantitative questions are used in the statistical analysis, respondents also are asked a series of qualitative questions regarding their perceptions of the merger or acquisition. The answers to these questions are provided in the "Open-Ended Responses" section.
Demographics/General:
Respondents are asked to provide a description of their company affiliation before the merger/acquisition, experience with prior mergers/acquisitions, location at the time of the announcement, and the impact of the merger on their job duties.
Merger/Acquisition Announcement:
Questions regarding the announcement of the merger and the time between announcement and the closing of the deal are also are included in the survey.
Responses to those questions indicate:
If employees had heard rumors about the merger/acquisition prior to announcement
How employees rated the handling of the announcement on a 7-point scale
If employees felt that efforts were made to answer the questions that arose after the announcement
The degree to which the announcement impacted productivity
Acquisition Integration:
To assess perceptions of the overall success of the integration and the benefits derived from the acquisition, employees are asked to rate ...
Related Articles