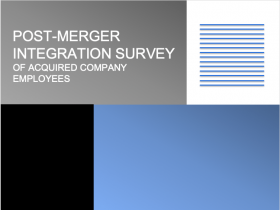 Register 2 months in advance and save $1,000.
Content
Summary of Results
Interpreting the Percentages
Key Drivers of Engagement
Ares of Strength
Improvement Opportunity
Improvement Needed
Takeaways
Next Steps
What Additional Remarks or Suggestions Do You Have
Timeline
Summary Of Results
Top 3 - Most Favorable
Overall, how satisfied are you with becoming part of the Acquirer's organization?
I feel safe to speak my mind about how things can be improved.
I feel positive overall about the future with the Acquirer.
Bottom 3 - Most Unfavorable
Other departments at Acquirer collaborate well with us.
I am included in decisions that affect my work
I feel adequately informed abut what to expect during the integration process
Take Aways
Communication
Senior Leadership is well informed but the extended team may not be
Opportunity to increase cadence of integration updates
Acquirer's goals and direction may still be unclear
Not a clear link between individual goals & Acquirer' goals
Workload Balance
Some struggle between integration activities & "day job"
Feeling of "business as usual" for the extended team – no change
Inclusion
Need an increase in effort to include stakeholders in decisions ...
Related Presentations