Merger Integration Certification Workshop
Mergers and acquisitions typically involve restructuring ... a culture clash ... heavy-duty management changes ... downsizing of some sort ... major reworking of systems ... and more. An integration is a very complex undertaking. Just winging any phase of the process is reckless. Organizations invite chaos if they attempt to merge without a field-tested, well-defined methodology.
In our five-day M&A integration training program, participants learn PRITCHETT's proven step-by-step approach for planning and running fast, effective integrations. Our methodology is neither too simple nor too complex. It is precisely what acquirers need to minimize risks and optimize results.

 - Improvised; ad hoc
 - Unstructured
 - Inconsistent
 - Not repeatable
 - Haphazard
 - Fails to capture lessons

 - Principles-based
 - Fast, flexible, adaptable
 - User-friendly
 - Easy to maintain
 - 
Skills-focused
 -  
Efficient skill transfer
 - Cumbersome
 - Unusable
 - Not maintainable
 - Cookbook oriented
 - Not realistic
 - Excess training required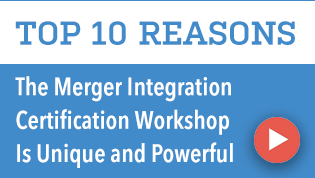 Monday-Thursday 9:00 AM to 5:00 PM
Friday 9:00 AM to Noon
Register 2 months before workshop dates and save $1,000.
Location: Dallas, Texas 
Register early and save $1,000.

Register Online

Download 20-Page
Workshop Brochure


Learn More About Us 
   Call 800-992-5922 for more information.
 
Fifteen Workshop Objectives
Attendees will:
Apply a step-by-step, scalable integration planning methodology
Set up the ideal project governance
Create effective integration team charters
Identify critical risks and develop mitigation strategies
Differentiate the "must-haves" from the "nice-to-haves"
Use proven tools to create key deliverables
Develop a logical, achievable detailed work plan
Make the right opening moves on Day 1
Avoid common mistakes that trigger cynicism and destroy management's credibility
Create communication plans tailored for different constituencies
Implement talent retention best practices
Identify mission-critical cultural differences
Develop a viable cultural integration plan
Learn best practices on synergy program management
Preserve hard-won wisdom by capturing lessons learned
Introduction
-  Review best practices and PRITCHETT's M&A integration methodology
-  Examine the most common integration mistakes
-  Develop integration guiding principles
Charter and Governance
-  Clarify integration objectives
-  Define integration scope
-  Establish clear hierarchy and accountabilities for project
-  Refine end-state criteria and target operating model
-  Define integration scope and charters
-  Outline key deliverables
Risk Management
-  Identify project risks and assumptions
-  Evaluate impact of risks and probability of occurrence
-  Develop mitigation strategies and contingency plans
Integration Planning and Execution
-  Operationalize weekly schedule and planning process
-  Break integration activities into macro-phases
-  Determine timing and sequence of phases and set milestones
-  Prioritize workstreams
-  Establish synergy program management
-  Develop day one and post-close game plans
-  Closely monitor progress against goals
-  Red flag issues that require extra attention
Cultural Integration
-  Learn the hard core truth about cultural integration
-  Determine what's practical and viable
-  Perform cultural diagnostics: Merger Risk Assessment, Operating Style Analysis, andCulture    Context Questionnaire
-  Identify the few mission-critical traits
-  Ensure cultural clash is not used as an excuse for failure
Leadership
-  Set the right expectations about the integration process and its inherent complexities
-  Administer the Impact of Acquisition Survey
-  Focus on the critical leverage points
-  Communicate effectively even when there are more questions than answers
-  Identify stakeholders and customize communication plans
-  Achieve buy-in from stakeholders
-  Motivate people in a destabilized environment
-  Retain key players without over-promising or over-paying
-  Engineer early wins to help quiet the skeptics
Close Project
-  Survey stakeholders to ascertain concerns going forward
-  Capture lessons learned, including mistakes people are reluctant to admit
-  Formalize hand-offs of long-tail integration activities
Previous Participants of PRITCHETT Merger Workshops (Partial List)
Abbott Laboratories
ABC Radio
ABN AMRO
Abt Associates
Accor North America
Acelity
ACIST Medical Systems
A.G. Edwards
Airbus
Alberto-Culver
Alcon Labs
Alexion Pharmaceuticals
Allegiance Bank Texas
Alliance Catholic Credit Union
American Science and Engineering
American Express Global Business Travel
Analog Devices, Inc.
AON Risk Services
Arcserve
ARM Inc.
Aruba Networks
Atkins Nuclear Solutions US
Avaya
AVG Technologies
BAE Systems
Bank One
Banner Health
Banner Pharmaceuticals
Bashas' Inc.
Baxalta
Bayer Healthcare
Baylor Scott & White Health
Bilfinger
Blue Sky Therapy
Borg Warner Chemical
Boys & Girls Clubs of America
Brooktree
California United Bank Caterpillar
Carl Zeiss AG
Carlsberg Vietnam Trading Ltd
Casamba
Centerstone
Cephalon
Chicago Board of Trade
Chicago Mercantile Exchange
Cinram Canada
Citco Fund Services
City of Hope
ComEd
Computer Services, Inc.
Convergys
Copyright Clearance Center
Credit Union of Central BC
Cuestamoras
Cytec Industries Inc.
Datwyler Holding AG
DigitalGlobe
Domtar
Dow Chemical
DTE Energy Resources
Elk
Embarq
EMC
Emergent Biosolutions
Entegris
ERT
ESL Federal Credit Union
Exelis
Exxon/Mobil
Facebook
Faurecia
Ferguson Enterprises
Ferro
First Bank of Nigeria Ltd..
First Chicago NBD
Fosroc International Ltd
Freeman
Freeway Insurance Services
Fujitsu
GAF
GE Plastics
General Dynamics AIS
Global Contractors
Global Excel
Global Ground Support, LLC
Golder Associates
Goodrich
Gordon Food Service
Granite Construction
Grifols
Grove Worldwide
Growthpoint Properties
Grupo 3PL
Guidant
Habasit
Halliburton
Hanson Building Materials
Hashem Contracting and Trading Co
Hewlett Packard
Hi-Pro Feeds, LP
Honeywell
Hospital for Sick Children
Hostelling International USA
Hunt Refining
Income Electrix
Infoblox
Ingersoll Machine & Tool
International Flavor & Fragnances
IPEG
ITC Infotech
JET Group
John Deere
Johnson & Johnson
Johnson Controls
Kenny Construction
Kent Hospitals
King Pharmaceuticals
Knowles Electronics
Kraft Foods
Kuraray America
Lehigh Valley Health Network
Life Technologies
Lifespan Technology Recycling
Lime Energy
Linac Management Consulting
Lincoln Financial Group
Liquidnet
London Life
Lord & Taylor
Lowe's
Louisiana Capital Group
MacMillan Bloedel
Manitowoc Company
MANN+HUMMEL
Manulife
Maritime Life
McAfee
McKesson Corporation
Medical Management Professionals
Merck & Co.
Micromedics
Micron Technology
Microsoft
Milliken & Company
Molex Inc.
Monitronics
Motorists Insurance Group
Motorola
Mount Sinai Hospital
National CineMedia
National Instruments
Nationwide
Newalta
NewPage
Nordson
Northern Safety & Industrial
Novell
Nuclear Safety Associates
Nycomed France
Omron Europe
Orange
Orbitas
Palmer Johnson Power Systems
Panduit
Paychex
Peco Energy
Pfizer
Phillips 66
Plaza Bank
Polaris
Post Consumer Brands
PowerStream, Inc.
Precision Southeast Inc.
Provena Health
Radiometer GmbH/Danaher
Raytheon
Red Hat
Resurrection Health Care
Rockwell International
Rogers
Royal Bank of Scotland
RTI Health Solutions
RTI International Metals, Inc.
RuffaloCODY
Ryan & Company
Sanofi-Aventis
Schering-Plough
Scientific Games
Scripps Networks
Service King
SGL Technologies
Shenandoah Telecommunications
Shire Pharmaceuticals
SI Group
Sierra Nevada Corporation
Sigma-Aldrich
Solvay
Sophos PLC
Spectrum Health
St. Mary's Medical Center
Standard Life Assurance Company
Standard Motor Products
Stanley Security
Sterling Commerce
Stryker Instruments
Surgical Care Affiliates
Sys IQ
Teleflex Inc.
Telkom Australia
Texas Instruments
TGS
The Global Draw
Thomas & Betts
Torrent Pharmaceuticals Limited
Toyota Tsusho America
TransUnion
Tuthill Corporation
U.S. Bank
Unilever
Unity Health Insurance
Union Bank & Trust
Upsher-Smith Laboratories
UTEC Survey
Value Plastics
Vantiv
Varian Medical Systems
Verizon Wireless
Verso Paper
Virtual Technology Corp.
Volcano Corporation
Wachovia
Warner-Lambert
We Energies
Wells Fargo
Wentworth-Douglass Hospital
Weyerhauser
Women and Infant Hospital
Workers Credit Union
World Bank Group
Wyeth Pharmaceuticals
York Insurance Services
Zotec Partners
Fees
$9,995/Person for 1 Attendee
$9,495/Person for 2 Attendees
$8,995/Person for 3 or More Attendees
Register 2 months before workshop dates and save $1,000.
Cancellation Policy
Registrants who notify us of their cancellation more than two weeks prior to the workshop will have the option to apply the full amount of their tuition to a future merger course or receive a refund of their tuition less $1,750. Registrants who notify us of their cancellation within 2 weeks of the workshop will have the option to credit the full amount of the tuition to a future course or receive a 50% refund of the fee. The published fees for future courses are subject to change. Substitute attendees from the same organization can be made at any time without charge.
Location of Workshops
PRITCHETT, LP
Campbell Centre II
8150 North Central Expressway, 13th Floor
Dallas, TX 75206


Suggested Hotels
DoubleTree by Hilton Hotel
Attached to Campbell Centre
8250 N. Central Expressway
Dallas, TX 75206-1888
Phone: 214.691.8700
Use corporate account #0560026236 for 15% discount.
Magnolia Hotel Dallas Park Cities
1.6 miles south of Campbell Centre
6070 N. Central Expressway
Dallas, TX 75206
Phone: 214.750.6060 or 888.915.1110
Hilton Dallas/Park Cities
2.4 miles west of Campbell Centre
5954 Luther Lane
Dallas, TX 75225
Phone: 214.368.0400
HYATT House Dallas/Lincoln Park
0.2 miles west of Campbell Centre
8221 North Central Expressway
Dallas, TX 75206-1888
Phone: 214.696.1555
Marriott Courtyard Dallas Central Expressway 
1.8 miles north of Campbell Centre
10325 North Central Expressway
Dallas, TX 75231
Phone: 214.739.2500

Hampton Inn & Suites Dallas - Central Expy North Park Area
1.8 miles north of Campbell Centre
10370 North Central Expressway
Dallas, TX 75231
Phone: 214.361.0033
Continuing Professional Education
This workshop qualifies for 36 CPE or HRCI certification credits.
PRITCHETT, LP is registered with the National Association of State Boards of Accountancy (NASBA) as a sponsor of continuing professional education on the National Registry of CPE Sponsors. State boards of accountancy have final authority on the acceptance of individual courses for CPE credit.
The use of the HRCI seal means that this program has met the HR Certification Institute's criteria to be pre-approved for recertification credit. It is not an endorsement by the HR Certification Institute of the quality of the program. 
Certification
Participants who pass PRITCHETT's exam (taken on Friday morning of the workshop) will receive the credential, CM&AI. The Certified M&A Integration (CM&AI) designation signifies you have taken the most in-depth available course on merger integration, mastered the content, and developed a core competence in acquisition integration. The only accreditation for M&A integration professionals is the CM&AI.