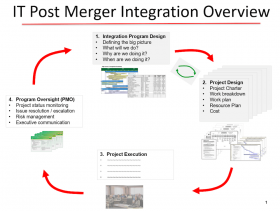 Register 2 months in advance and save $1,000.
M&A Integration Strategy
Defining the big picture
What will we do?
Why are we doing it?
When are we doing it?
Project Design
Project Charter
Work Breakdown
Work Plan
Resource Plan
Cost
Project Execution
Program Oversight (PMO)
Project status monitoring
Issue resolution / escalation
Risk management
Executive communication
Project Kick-Offs for Close +30 and Close +60
Draft high-level project approach for SAP and GP projects
Pre-project business functionality discussion
Finalize scope statement
Work-breakdown-structure
Resource plan
Identify PM
Project task-plan...
Related Presentations