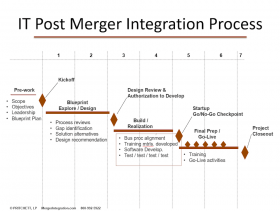 Register 2 months in advance and save $1,000.
During the post merger IT integration process, accomplish the following tasks before the kick-off meetings:
Identify executive sponsor, presuming that would be CFO.
Identify business project leader, person from the business with extensive knowledge of the current operations who will have significant time (50%) to dedicate to the project
Identify IT project manager
Identify other business and IT resources
Conduct an initial IT discovery session – including a site tour and general process discussions
Conduct some type of IT discovery session for Corporate
Business PM and IT PM would work to end of June
Prepare blueprint plan, schedule, and activities for process walk-through/requirements sessions
Develop initial objectives, scope in/out, issues, risks
Socialize and get buy-in from executive sponsors
Create project chartering documents
At the Kickoff Meeting:
Present organization, objectives, scope, etc.
Present blueprint schedule and activities
Receive authorization to proceed with blueprint activities
Next Steps
1) Blueprint Explore/Design
Process reviews
Gap identification
Solution alternatives
Design recommendation
Decision: Design Review & Authorization to Develop
2) Build/Realization
Bus proc alignment
Training mtrls. developed
Software Develop.
Test / test / test / test
Decision: Startup Go/No-Go Checkpoint
3) Final Prep/Go-Live
Training
Go-Live activities...
Related Presentations