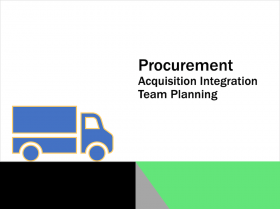 Register 2 months in advance and save $1,000.
Agenda
Global Process Improvement Plan Development Timeline
Our Process
How We Get There …
Supply Chain "Core Competence " Strategy
Our Goal
Associated Costs
Implementation Schedule - Wave 1
Team Process
Process Improvements
Risks
Our Process
Scope
Total cost of goods and services associated with $300,000,000 supplier spend at Acquire
Purchasing Team Approach
Spend analyzed by Commodities/Services
Analysis Worldwide
Cross-Functional Teams to Implement
EVA Driven
Purchase Price
Logistics
Packaging
Warranty
Transaction Costs
Working Capital
End Results
Lower Net Material Cost – OEM & Service
Reduced Operating Expenses
Lower SG&A Costs
Lower Working Capital
Our Goal
Since we purchase $300 million of goods and services at Acquirer … material procurement and supply chain management must be a "core competence" at our NewCo.

Goal: At least $20 million of savings realized in year one ...
Related Presentations