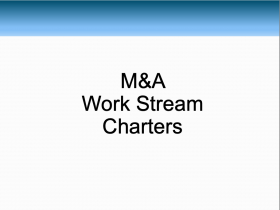 Register 2 months in advance and save $1,000.
Finance Work Stream Charter
Objectives
Develop Optimal Function / Department Organizational Structure
Execute Seamlessly on Day 1
Migrate Finance Systems
Tax Management
Budgeting / Forecasting / Planning
Scope
Completed organizational chart with appropriate names, titles, & locations
Org charts from both Acquirer & Acquired Co., interviews, census
Business unit transactional level – cash collection / billing, pay vendors and EE
GL, AP, AR, HR, Payroll, Treasury, FP&A
Systems and processes in place to effectively close the books on a monthly and annual basis, including reporting obligations
Assumption: Owned by IT, however, heavily relies on accounting and finance support and involvement
Determine most efficient integration of IT systems to deliver optimal performance in key areas including: Efficiency, management reporting, etc.
Review of full BU level transaction processing, financial systems, ERP, etc
Federal/State income tax reporting
Property tax reporting
Sales & use tax reporting
Planning & Forecasting
Other tax related matters
Systems, procedures, guidelines in place to effectively manage the business and plan appropriately for the future
Information Technology Work Stream Charter
Key Objectives
Define Organizational Structure and IT Integration Plan
Strategy
Prepare For Seamless Day 1
Business ERP Consolidations
In Flight Project Review
Cybersecurity
Scope
Evaluate talent pool and determine retention strategy for key personnel
Assess, determine and communicate revised organizational structure
Ascertain if infrastructure support is paired with ERP support
Define expected resources (internal/external), set expectation for execution
Complete full infrastructure review (Hardware and Software Resources)
Complete contractual obligation review
Develop short-term strategy (Yr 1-2 strategy)
Layout future infrastructure platform
Plan divisional ERP moves with target dates
Develop mid/longer strategy
Where appropriate, consolidate IT support services
Plan for 'all hands on deck' strategy ensuring network, database and voice system stability
Clearly define and communicate Help Desk contact strategy and measurable internal SLAs
Maintain IT purchasing and vendor continuity
Go live with combined Acquirer / Acquired Co. directory
Begin execution of divisional ERP reassignments
Evaluate spending and time constraints
Review current open projects, evaluate go / no go
Assess Acquired Co. cyber security status
Define plan to reach One Acquirer cyber security maturity level of 2.5 – 3.0...
Related Presentations