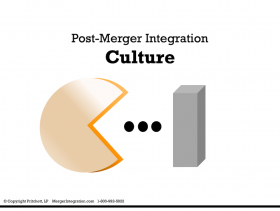 Register 2 months in advance and save $1,000.
Content
Several Ways to Address Cultural Issues
Four Possible Scenarios for Culture Integration
Advantages to Each Approach
Why Are Post-Merger Cultural Issues Difficult to Manage
Consequences of Culture Conflict
Culture Differences Can Cause Integration Failure
3 Important Drivers of Cultural Issues
Components of Culture Change Programs

Why are Post-Merger Cultural Issues Difficult to Manage?
Culture is frequently 'under the surface' i.e. not obviously visible – driven by values, beliefs, norms, mental models, different expectations
Cultural 'hot spots' within the two organizations may simmer for awhile before causing major problems
Root causes of cultural issues might be in different areas than where the issues appear
Culture is deep rooted, created over a company's history, and therefore extraordinarily difficult to change ...
Advantages to Each Approach
Cultural Assimilation
Quick, efficient, and many tough decisions made "automatically"
Only requires compliance from staff rather than commitment
Can make staffing & restructuring decisions easier
Forge New Culture
Builds foundation for long-term synergy-based gains
Builds shared core values and vision
Encourages innovation and builds staff commitment rather than creating winners and losers
Can promote breakthroughs in products, services and performance
Keep Separate Cultures
Simple - allows each unit to continue to build on its historical strengths
Does not cloud or confuse market image
Little or no disruption of business
Still provides opportunities for synergies and shared learning
Operate with Sub-cultures
Quick - can defer complex integration issues
Minimizes disruption to acquired unit's customers and production staff
Can serve as "skunkworks" environment for developing innovations
Can provide alternative market interface in niche areas...
Related Presentations