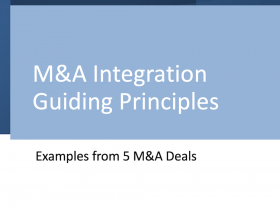 Register 2 months in advance and save $1,000.
Guiding Principles: Preparation
Follow a balanced, robust "due diligence" process that examines financial, legal, operational, organizational, and cultural issues.
Use the deal drivers/targets as decision filters.
Start detailed integration planning during due diligence.
Be ready to roll on Day 1.
Translate M&A value drivers into metrics.
Guiding Principles: People
Hold senior management team responsible for the success of the deal.
Involve HR early in the process.
Communicate decisions about structure, layoffs, and initial integration as soon as possible.
Provide frequent, positive, and frank communication at all stages of the integration, and to all levels of employees.
Guiding Principles: Execution
Implement a formal integration methodology (processes, tools, and templates).
Emphasize strong program management and governance.
Place heavy emphasis on knowledge capture/sharing.
Establish IMO.
Document activities/lessons learned.
Use common nomenclature and processes.
Guiding Principles Example
Integration work must support delivery of synergy plan and align with business goals.
We must understand, protect and preserve the value drivers that makes this deal work.
We need to mitigate any disruptions to normal course of business.
We will assess, understand and collaborate where needed but Company A owns decision rights on all matters.
We will look for opportunities to "upgrade" in all aspects of the business (including people).
We will operate with a "bias for urgency" on all integration work.
We will ensure people, culture and communications are an integral part of our ongoing integration planning and execution.
We will view all integration projects as an opportunity to transform our business and lay the foundation for a strong future ...
Related Presentations