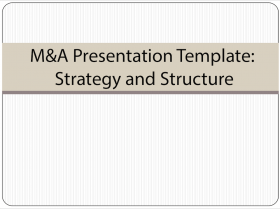 Register 2 months in advance and save $1,000.
M&A Presentation Example
Understanding the Deal 4 S's
Strategy for the deal
Synergy for the companies
Structure of the deal
Steps for the integration
Business and Integration Strategy
Acquisition process – where are we?
Business strategy for the acquisition
Integration strategy/milestones
Integration infrastructure
Business Strategy for the Deal
Why did we buy this company?
What is the strategic business objective?
What strengths do they have?
Synergy for the Deal
Business goals for the deal
Time frame to reach goals
Opportunities, constraints, or risks...
Related Presentations