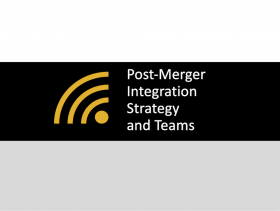 Register 2 months in advance and save $1,000.
Agenda
Integration Guiding Principles
High-Level Integration Plan
Integration Milestones on Timeline
Value Drivers
Governance Structure
Governance Teams
Steering Committee Roles & Responsibilities
IMO Roles & Responsibilities
Integration Meeting Cadence
Integration Deliverable Examples
Integration Milestones
Email cutover
Network cutover
Functional integration (HR/IT/Finance)
Leadership organization structure
First 30 days org changes (when needed)
Interim month-end close process
Communication plan (internal/external) pre-close through post-close
HRIS cutover
Payroll cutover
Benefits cutover
Confirm talent retention and transition plans
Works Council and other employee matters (unions, etc. US/non-US)
Go to market strategy
Product roadmaps
System identification and cutover planning ...
Related Presentations