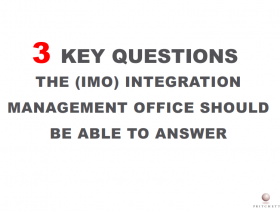 Register 2 months in advance and save $1,000.
1) What are the basic roles/responsibilities associated with IMO programs and projects?
Accountable Executive(s)
Provide executive guidance for each program based on overall integration objectives and long-term goals
Serve as a point of escalation in resolving conflicts related to resources, direction, and priorities
Encourage and reward teamwork, progress, and results
Program Managers
Coordinate and guide planning and project management activities across all projects executed within a program/team
Manage dependencies and linkages among projects/sub teams
Frame issues for resolution by Accountable Executive(s)
Ensure coordination between programs
Capture and incorporate changes to synergy templates implied by plans
Project/Sub Team Leads
Drive the creation of effective and logical project plans for their project through Project/Sub Team meetings and working sessions
Enlist resources/additional sub team members to plan and execute work
Develop and manage project scope and budget (with support of Project Managers)
Report overall status to the Accountable Executive(s), Program Manager, and IMO
Escalate issues to the Accountable Executive(s), IMO, and Steering Committee as needed
Project Managers
Employ project management discipline and tools to the projects/sub teams
Support the Project/Sub Team leaders in managing budget and scope and reporting progress
2) What are the deliverables for ...
Related Presentations