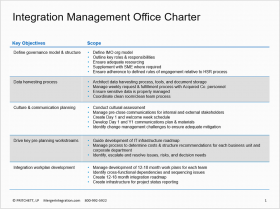 Register 2 months in advance and save $1,000.
What are the IMO's Role & Responsibilities?
Define governance model & structure
Define IMO org model
Outline key roles & responsibilities
Ensure adequate resourcing
Supplement with SME where required
Ensure adherence to defined rules of engagement relative to HSR process
Conduct data harvesting process
Architect data harvesting process, tools, and document storage
Manage weekly request & fulfillment process with Acquired Co. personnel
Ensure sensitive data is properly managed
Coordinate clean room/clean team process
Develop culture and communication plans
Conduct cultural assessment
Manage pre-close communications for internal and external stakeholders
Create Day 1 and welcome week schedule
Develop Day 1 and Y1 communications plan & materials
Identify change management challenges to ensure adequate mitigation
Drive key pre-planning work streams
Guide development of IT infrastructure roadmap
Manage process to determine costs & structure recommendations for each business unit and corporate department
Identify, escalate and resolve issues, risks, and decision needs
Develop integration plans
Manage development of 12-18 month work plans for each team
Identify cross-functional dependencies and sequencing issues ...
Related Presentations