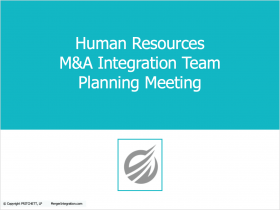 Register 2 months in advance and save $1,000.
Agenda
General Overview
Implementation Schedule
Synergy Summary
Key Organizational Changes
Key Issues & Assumptions
Necessary Process Maps
General Overview
Purpose - Establish an Acquired Co HR Group Consistent With Acquirer Org And Integrate Acquired Co With Acquirer HR Systems And Processes.
Objective - Implement Change With Minimal Disruption.
Value Drivers - Acquirer Intends To Differentiate Itself Based On Employees. NewCo Will Provide A Greater Pool Of Employees And More Internal Opportunities.
Main Synergies - Reduced Headcount And Benefit Plan Savings. Improve Processes By Use Of PeopleSoft.
Main Costs - PeopleSoft Implementation And Staffing For Internal Payroll.
Risks - Employee Retention & Union Activity With Benefit Changes...
Related Presentations