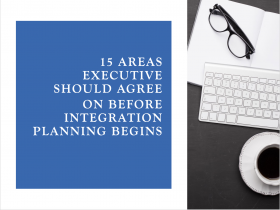 Register 2 months in advance and save $1,000.
Integration teams need clear direction in 15 areas before they begin detailed planning.
When M&A integration teams begin planning without clarity from top management, they are more likely to make the wrong assumptions, draw different conclusions, and veer off on tangents.
Before the integration teams begin the detailed planning process, the executive team should be aligned in the following 15 areas (not listed in order of importance):
End States ("Mission Accomplished" Defined)
Guiding Principles
Priorities
Extent of the Integration
Timing of Integration...
Related Presentations