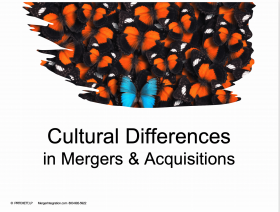 Register 2 months in advance and save $1,000.
The cultural differences between the Acquirer and Acquired Company are identified.
Content
Reality
How You Described Yourself
Cultural Traits
Human Resources and Information Technology
Acquirer
Acquired Company
Messages
Assessment Summary


Except from Presentation:
Cultural Traits
Performance Management
Formal: Acquired Co. using incentive pay (bonuses) much more broadly and deeply than Acquirer.
Informal: Both organizations expect managers to address performance on an on- going, as-needed basis.
Communications
Acquirer's preferred communication style is less structured; picking up the phone is typical in lieu of meeting in-person.
Spending Habits
The companies' attitudes are quite similar. They are careful - willing to spend when a return is demonstrated or on safety.
Work/Life Balance
At both companies, people felt they had work/life balance.
If they were out of balance, it was their choice or an unusual spike in the business
Human Resources and Information Technology
HR
Acquired Co. benefits were mentioned often, especially tuition reimbursement.
Neither company has a lot of formal development programs - training limited primarily to safety. "Self-motivated development"
Those viewing the acquisition as an opportunity for growth wonder how they will know about potential opportunities in the new organization. "So much tenure no where to go" "Career growth is luck, timing, or who you work for."
IT
Acquired Co. has been working to centralize IT systems - this process can be viewed as a lesson on how well the SBUs accept giving up some of their control.
Related Presentations