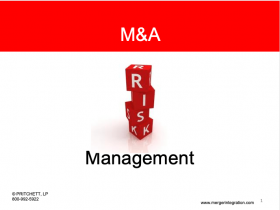 Register 2 months in advance and save $1,000.
There are many things that are difficult to project or estimate when establishing an integration plan.
Executives are mainly concerned about these areas:
Future financial performance
Future operational performance
Potential cultural risks
Potential business risks
Customer and employee retention
Integration Risk Assessment Sources
A review of due diligence materials
Thorough series of interviews with key executives
Analysis of previous integration activity successes and failures
Risk Management Assessment
The following is a list of "universal" risk assessment questions you can use to craft your own assessment survey:
What are the business rationale and key financial metrics that support the deal?
What are the core business strategies of the NewCo (the newly combined company) or the acquiring company?
What are the most sensitive areas of the business that might be prone to disruption?
Are there significant government and/or regulatory affairs challenges for this industry? (e.g., Pharma integrations.)
Will some portion or unit of the acquired or merged company be carved out and left alone (making it necessary to add extra effort to preserve it during the integration)?
What are the timeline expectations for the integration that have been communicated to key stakeholder audiences (e.g., the investor community)?
Are major IT system integrations required to realize synergy benefits or operational efficiencies? What are their expected timings?
Are there any key managers or salespeople that might leave as a result of the merger or acquisition which would result in an "experience vacuum" in a particular area?
How involved will the integration team be in synergy workstream tracking and management?
Are there any EPA or union concerns that have to be addressed?
Are there any past business practices that are incongruent with the Newco's (or acquiring company's) business strategies (for example, credit standards for new customers)?
Are there any community affairs issues that will result in a more rigorous communication plan being required?
These are just samples of the kinds of areas where discovery is needed to gauge integration complexity.
In addition to this you should add questions that are germane to the industry, deal type, and company.
Related Presentations