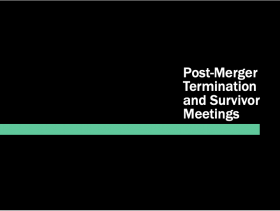 Register 2 months in advance and save $1,000.
Agenda
Communications for April/May
Termination Impact Matrix
Business Rationale for Termination Actions
WARN Act (Worker Adjustment & Retraining Notification Act) – Fresno only
Previous Severance Packages
Current Severance Packages
Termination/Survivor Meetings by Site
Email Invitations to Meetings
Support Materials for Conducting Termination/Survivor Meetings
Separation Package Contents
Site Meetings to Follow Earnings Call
Script for Conducting "Keepers" Meeting
Business Rationale for Termination Actions
During a recent two-day meeting, our Executive Team reviewed our customers, competitors, product portfolio, market opportunities, sales forecasts, and costs.
In general, our business is in good shape and growing, despite some very difficult market conditions. We continue to be a market leader. We are convinced that the merger has helped us maintain this leadership position in our highly competitive market. However, to remain in alignment with our forecasts for the year, it is imperative that we cut operating costs by April 30th.
To determine where to make these cuts, we reprioritized our list of projects/programs and then assessed the resources assigned to each. We also assessed the support resources required to run the business. As a result of this analysis, we were able to identify reductions that could be taken without significantly impacting our highest priority projects/programs.
The reductions will be limited to three sites: Fresno, Oakland, and Norfolk.
While we regret the negative impact this decision will have on some individuals and teams, we are convinced it is the right decision for the business.
The reductions being taken on Friday, April 26th are the only ones planned at this time, but we will continuously re-evaluate our business and may make additional adjustments in the future, if required ...
Related Presentations