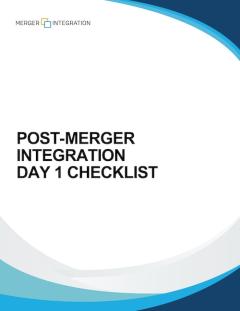 Register 2 months in advance and save $1,000.
Workstreams include: Finance, Communications, Human Resources, Safety, Information Technology, R&D, Procurement
Day 1 Finance:
Coordinate with IT and business units regarding closing of periods and end of period processing
Ensure Acquired Co. Letters of Credit remain in place under new banking arrangements
Communicate Acquirer limits of authority to Acquired Co.
Execute funds transfer at close
Provide Acquired Co. exposure and claim data to Acquirer brokers to confirm existing carriers will cover acquisition on Day 1
Confirm no change in control issues and existing carrier will continue coverage and list Acquirer as named insured on all policies as back up ...
Communications:
Execute Day 1 Town Hall Meeting
Day 1 Communication Plan
Draft BU communication plan and timeline
Upload to SmartSheet plan library
Reconcile timing with master timeline
Map out Day 1 communication items & reconcile with master timeline
Draft custom content for Customers
Draft custom content for Suppliers
Day 1 Powerpoint Deck
Day 1 Leader Video
Day 1 Newsletter
Employee FAQ...
Related Content