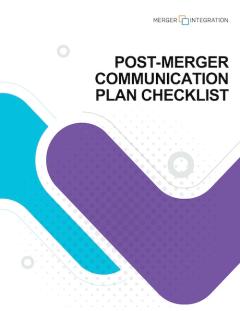 Register 2 months in advance and save $1,000.
Plan Basics
For the communication plan to be successful:
Multiple channels of communication should be used in order to reach the highest number of people
A single point of "editorial control" will enhance the quality and consistency of communicated messages: VP of HR is the designated final approver before distribution of employee communications to Acquiree
The individuals designated as distribution point contacts have the processes in place as well as the availability necessary to quickly disseminate information to their stakeholder groups
Dates have not been finalized. As the plans surrounding the acquisition evolve, the dates suggested in the timeline and communication plan will need to be updated
Since the communication plan provides a structure for executing communications rapidly, it can be finalized and shared in advance of deal announcement; specific message content will depend on the outcome of deal negotiations which are still ongoing
Resources within the Information Systems group will be available to support information postings to the intranet, global email/video distribution and establishment of an email box supporting two-way communications
Video production will be provided by an outside vendor
Majority of stakeholders are English-speaking; translations, where necessary, will be coordinated by the regional offices
Initial Checklist Actions
Establish global communication team
- Team member name and contact list
(remember to include new owners)
- Writers
- Presenters
- Video crew
- People to distribute press release, memos,
videos, letters to customers/suppliers
- Media contacts
- Schedulers for employee meetings
- People to post communications on
notice boards/ intranets
Notify global communication team members of roles and responsibilities
Notify executives of communication roles and responsibilities
Press Release
- Prepare draft
- Get draft approved
- Establish release date, time, distribution list, order of distribution (take different times zones into account)
- distribute
- post on intranet sites
- post on notice boards ...
Related Content