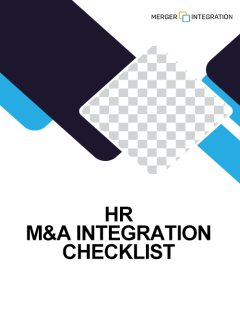 Register 2 months in advance and save $1,000.
The M&A Human Resources Integration Checklist covers the following areas: Pension Plan, 401K, Profit Sharing, HRIS, Health Benefits, Compensation, Severance and Transition, Workers Compensation, Employee Relations, Organizational Development and Staffing, and Safety / Environmental.
Excerpt from checklist:
Pension Plan
Determine options for Defined Benefit Plans (Hourly, salaried, union, geographical)
Compare Employee Total Benefits
Complete communication material for Acquiree employees
Communicate plan changes to Acquiree employees
401K
Communicate Acquirer Plan
Complete communication material for Acquiree employees
Combine plan assets
Profit Sharing
Complete communication material to Acquiree employees
Communicate end date of Acquiree plan
Introduce Acquirer's plan
HRIS
Evaluate internal vs external payroll processing alternatives for US
Review contracts with ADP at Acquiree
Determine personnel and cost synergies or ADP/Insource via PSFT
Develop transition plan for Payroll
Develop HRIS Transition Plan
Identify key Acquirer services and transition timing from Acquiree to Acquirer
Plan meeting for January to review information needs for change to PSFT
Develop HRIS project plan ...
Related Content