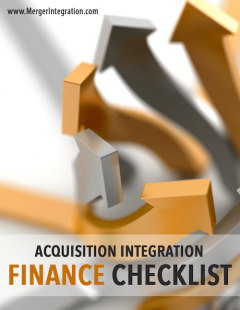 Register 2 months in advance and save $1,000.
Acquisition Integration Finance Checklist includes over 115 integration tasks categorized in areas such as NewCo Finance Organization, Reporting, Business Process and Systems Intergation, Integrating SOX, Treasury Org., Master Services Agreements, Cash Management, Risk Management, Contracts, Budget.
Accounting Post-Merger Integration
Newco - Finance Organization
Schedule a work session with key stakeholders to assess functional redundancies and begin

construct of attrition plan

Build roles/responsibility matrix
Construct a draft organization chart
Conduct follow up meeting with key stakeholders to review draft and gather edits
Schedule and conduct presentation meeting with decision making executives to present

organization chart and gather further edits

Revise new org chart
Construct memo with HR to have an executive publish new org chart
Schedule a department meeting to introduce new org chart/ R&R for review
File new org chart into corporate archives and policy records
Reporting
Schedule a meeting with key stakeholders to establish Day 1 reporting lines and an issue escalation process.
Begin to define future state of finance organization and establish a transition plan aligned with the process and systems migration plan
Establish interim process controls and possible Procure-to-Pay program
Begin to identify procurement synergies from vendor consolidation increase volume and purchasing services SKU rationalization and policy alignment
Construct with IT a Sox 1-year integration plan
Integrate Target Co. Financials
Adjust financials to Acquirer reporting methodology
Complete purchase price allocation
Review audits provided by auditors
Determine if any additional 3rd party audits are necessary
Construct schedules to feed into footnotes
Complete Phase 1 Budgets
Plan and update Segment Reporting
Construct Goodwill and Statement Changes reporting
Document all Phase 1 reporting activities into corporate archives.
Schedule a meeting with key stakeholders to discuss the structure of the P&L
Understanding the Depreciation schedules
Review the current close process and calendar
Understand accounting policies and revenue recognition
Gather and review any pending tax matters, audits, extensions, waiver of statutes of limitations, and any list of audit adjustments
Review all/any material tax opinions
Gather and identify that payroll, withholding, sales, use, franchise, and real personal property taxes are paid o Review SEC Reporting
Construct a risks analysis of financial reviews
Schedule a meeting with key financial stakeholders to review findings, changes and updates to reporting
Document Newco reporting into corporate archives...
Download the file to see the complete checklist.
Related Content