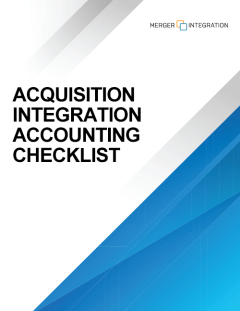 Register 2 months in advance and save $1,000.
Acquisition Integration Accounting Checklist covers 88 integration tasks in areas such as treasury, synergy tracking, organization design, taxes, operational reporting, and financial close.
Excerpt:
Treasury
Implement plan for inter-company sweep and settlement to acquiring company's lockboxes / GL
Lockbox implementation / closures
Move accounts to same cash management platform
Close Acquired Company's bank accounts
Adjust for Target once final structure determined
Finalize Budget/Plan for each organization
Pay down Acquired Company's Term Loan at closing
Terminate Acquired Company's Revolver
Review all Acquired Company's debt covenants; review for conforming to covenants
Cancel select Acquired Company's insurance policies
Make any changes to lockbox, bank signature pages; update wire security
Agree on process for sweeping cash between Acquiring Company / Acquired Company ...
Related Content