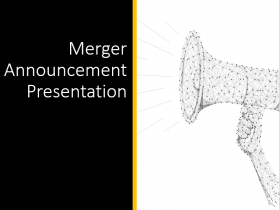 Register 2 months in advance and save $1,000.
Example of Merger Announcement
Details of the Deal
Alpha announced today (date) that we have agreed to merge with Zenith.
We expect this merger to close in late June following regulatory approval.
Zenith Company
History
Company was founded in 2001 by John Doe and Bob Smith
Company employs more than 2,200 service professionals
Vision/Mission
To be among the Top 5 in the industry and to provide clients with world-class business services
Context for the Merger
Expansion in the North American market
Global service offerings
Continuing world-class development
Together, we will be the second largest service provider in North America and the sixth largest in the world.
Leadership of Integrated Company
Bob Smith, CEO
Pat Jones, President
Todd Johnson, Senior Vice President of Business Development
Jennifer Davis, CFO
Merger Timeline
SEC papers will be filed tomorrow
Average 10-12 weeks for approval
Regulations limit the amount of communication between the organizations until the deal closes
Once the deal closes integration will begin
Integration Planning
Integration teams will be formed with representation from both companies
Teams will be established to focus on integrating the major functional areas – operations, sales, finance, human resources, IT, communications, and service development ...
Related Presentations