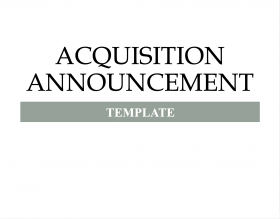 Register 2 months in advance and save $1,000.
PRESENTATION TEMPLATE FOR ACQUISITION ANNOUNCEMENT
KEY POINTS OF THE MERGER
Who is acquiring whom
Degree of integration anticipated (e.g., the two entities will be fully integrated)
Corporate headquarters in Anywhere, USA
Timing
Close expected Spring 2025
Integration complete December 2025
STRATEGY BEHIND THE DEAL
Why an acquisition? (e.g., part of our growth strategy is to…)
Why this company? (e.g., The combination of Company A and Company B will allow us together to…)
Other key points
MERGER DETAILS
Valuation:
New ticker symbol listed on XX exchange
Each B shareholder receives # shares of a
Other important acquisition details
THE COMPANY WE ARE CREATING
Number X in the Y industry

Premier … <industry> company
What the new company will be known for
Superior marketing power
Financial strength in a consolidating industry
Talented and experienced management team
COMPANY B (ACQUIRED COMPANY)
Corporate headquarters in Anywhere, USA
Major locations (or number of locations):

Major location 1 — Describe
Major location 2 — Describe

Number of employees
COMPANY B
Stock symbol
Recent revenue growth
Market share
Other pertinent financial data that will be shared
OVERVIEW OF PRODUCTS/SERVICES OF COMPANY B
List major products/services
List well-known brands
KEY CUSTOMERS OF COMPANY B
OPERATIONAL EFFICIENCIES
$ savings through…
Restructuring charge $
Restructuring charged as exceptional operating item over the next # years
RESTRUCTURING INFORMATION
Statement as to how the company will treat duplicate positions/locations
Layoffs?
Closures?
Related Presentations