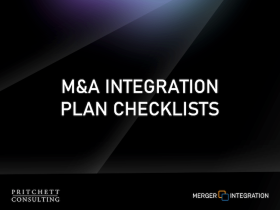 Register 2 months in advance and save $1,000.
Checklists
The "Hard" and "Soft" Elements M&A
Hard
Strategy
Structure
Systems
Soft
Staff
Skills
Shared Values
Strategy
Create a Core Document that captures the business rationale for the deal. (Why did we do this? How will joining forces improve our capability to create value? How will combining strengths build our competitive advantage? How will linking up provide our customers better products and services? How will the combination help us attract and retain the best talent?)
Analyze the "hand you've been dealt" and construct a list of potential opportunities/ losses that the deal creates for the organization and for people.
Map the deal to determine how it reflects the five different types of deals and analyze how much change to expect.
Compare Acquiree's stand-alone strategy with the new strategy for the combined organization and document any differences in either direction or priorities.
As soon as possible, define who the leadership team of the combined organization will be and announce it. Also define what the governing body will be and who will be members.
Identify and document who your customers are, which ones you want to keep, and if there are any that you'd like to drop. Analyze the impact on the customers you want to keep (paying special attention to your Top Accounts) and develop a plan for customer retention and transition. If there are customers you'd like to drop, develop a plan to discontinue service to them in a way that preserves your positive image and sterling reputation in the industry.
Analyze and document potential moves the competition may make to take advantage of your distraction and vulnerability. Map your new competitive landscape. Develop a plan for how you will defend yourself against competitive strikes and exploit your competitive advantages.
Analyze and document marketplace conditions that may be developing or shifting that could impact your strategic plans. Discuss and debate your assumptions about your marketplace.
Determine if "stay incentives" will be used to retain talent, and if so, what they look like and to whom can they be offered. Determine who can extend these offers.
Determine if voluntary separation or early retirement will be allowed in which separation packages are offered.
Analyze any current open positions and determine if those positions still need to exist. If so, design a recruitment plan.
Determine if any temporary workers will be needed to support the transition effort (security guards, data entry for payroll transition, IT support, website design, marketing collateral, training, etc.) and arrange for their contracts.
Analyze who is losing power, who is gaining power, and where power is shifting to determine the potential impact on the workflows and individuals involved. Anticipate where this change in power may create challenges and develop appropriate re-recruitment or succession plans.
Review all policies and procedures and document which ones will be changing and which ones will remain in force. (Review employee handbooks, policy and procedure manuals, operational guidelines, training documentation, customer service policies, etc.)
Review all existing contracts, leases, obligations, promises, partnerships, distributorships, vendor contracts, joint ventures, community involvement initiatives, and charity commitments to determine if adjustments need to be negotiated and communicated.
Determine what performance metrics the new organization is going to use to communicate performance expectations, hold people accountable, reward and recognize achievement, and produce targeted business results ...
Related Presentations