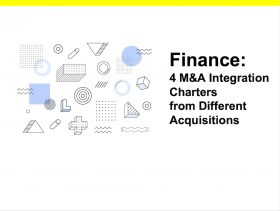 Register 2 months in advance and save $1,000.
Excerpt from First of 4 Charters
PreClose / Planning
Retention Plans: work with teams to define costs
Day 1: Ensure plans developed to ensure readiness for Close
Org. Structure: Finance team migrates to Acquirer reporting Day One
2018 Spend: schedules reviews to control and manage; identify opportunities to reduce spending (duplicate functions, projects, activities); control payables and accruals
Rev. Rec. / ASC 606: align accounting treatment; revenue roll forward; forecasts
Earnouts: establish collaborative Investment planning and decision-making processes
Audits: complete Acquired Co. audit by Sep.15; define ongoing SEC compliance requirements
FP&A: align Management Reporting, define budgeting process, policies
Day One / Close
Treasury: gain control of capital; bank account cutover; signature cards; cash / debt reporting, FX
Tax: legal entity structure established; signatures obtained; tax filing calendar established; align tax compliance, planning and audit mgmt.
Accounting: Billing/AR/AP cutover; align policies; support Close and G/L Consolidation, align Rev.Rec. accounting treatment until implementation finished, Map Chart of Accounts
Employee Onboarding: support ERP data migration, US Payroll migration; migrate cards to Amex; retention and offer letters
Sales: define compensation to support cross-selling
DOA: establish roles/limits in ERP system
Day 30+
Fixed Assets: migrate data and organize tracking and reporting in ERP
India Transfer Pricing: see Definitive Agreement protections; initiate plan to modify
VAT: see Definitive Agreement protections; initiate plan to modify
2025 Operating Budgets: schedule reviews to develop; align KPI's; define chargebacks/allocations; define new cost centers
QTC: support Quote-to-cash Workstream planning
GTM: support Go-to-Market Workstream planning
Product Integration: support SKU/PID setup in ERP
Real Estate: initiate search for new space; identify and control all third-party relationships
Cost-to-integrate budget: establish budget, process and controls for all Workstreams
Key Dependencies (Identify functional team)
Employee Onboarding (HR, IT)
Communications (HR, Marketing)
Applications / Systems Access (IT, Hosting) ...

Slide titles:
Finance:4 M&A Integration Charters from Different Acquisitions
Finance Charter
Finance Charter (1 of 3)
Finance Charter (2 of 3)
Finance Charter (3 of 3)
Finance Integration Charter
Finance Integration Charter (cont.)
Finance Integration Charter