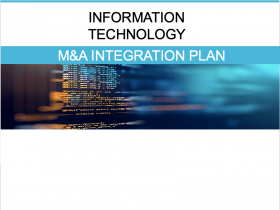 Register 2 months in advance and save $1,000.
Content
Key Objectives of The Workstream
Workstream Organization and Scope
System End State After Integration
Planning Goals Key Facts
IT Integration Migration Strategy for Local Acquired Co Applications
Local Acquired Co Applications in Scope for Migration
High Level Schedule
SAP Rollout - Various Options for Consideration
Scenarios for SAP Rollout at Acquirer
Cost and Risk
Key Objectives of the IT WorkStream
Ensure business continuity.
Prepare smooth migration of Acquired Company infrastructure and application to Acquirer's environment.
Roll-out central IT standards to Acquired Company.
Derive solution for target ERP solution
Workstream Organization and Scope
Sub workstream: General
Scope:
Project Management incl. IT Change & Comm
Training of IT resources
Standard Operating Procedures (SOP), etc.
Transitional Service Agreements (TSA)
Sub workstream: Infrastructure
Scope:
Clients including email
Server
Network
Security
Mobile Devices
Sub workstream: Central Applications
Scope:
ERP (SAP)
CRM (Salesforce.com)
HR system
Other, e.g. ServiceNow, reporting & analytics
Sub workstream: Local Applications
Scope:
Local Acquired Co. applications to be supported by future Acquirer IT department
Initiatives: Finance, Customer Focused, Supply Chain Management & Manufacturing, etc.
Sub workstream: Web
Scope:
Sub workstream: Vendor Management
Scope:
Sub workstream: Site Migrations
Scope:
All Acquired Co. sites to be migrated to target solution
Scope per migration: Local applications, networks, server, mobile devices / clients, support, user training
Sub workstream: Support for Acquired Co. systems
Scope:
Support for applications and systems carved-out and/or transferred to Acquirer including:

Service desk
2nd and 3rd level support ...
Related Presentations