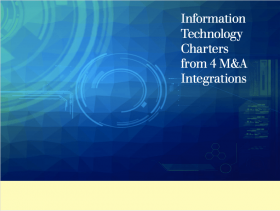 Register 2 months in advance and save $1,000.
Excerpt from First IT Charter
Objectives (Primary integration objectives to be achieved post close )
Enable realization of synergies – business processes, applications and infrastructure, locations, people
Adhere to IT integration timeline for application migrations, Infrastructure Migrations, Office Migrations
Develop IT Organization to support the new Acquirer IT Applications and Infrastructure
Identify cost savings timeline and end state run rate for IT
Identify key IT capabilities required for Day 1 Operations
Scope (Primary categories, systems, processes corporate or functional areas to be addressed in team's plan)
Support new business model associated with Western and Eastern Operations, Real Estate, Corporate Functions
Scope focused on Day 1
Day 1 Mandatories
Finance: Consolidations, third party reporting, banking

HR: Payroll, Benefits, HR Data, Other Employee Services

Core IT Infrastructure:
Email / Calendaring
SharePoint (sharing documents)
Active Directory / GAL – name, phone, email
Instant Messaging
Network Integration (specify what's needed)
Badging as required for any new employees to building
Safety Training: Access to the system required
Delegation of Authority: Law Department (SharePoint)
Contracts / Vendor Mgt. for IT and Corp Contracts– TBD Day 1
Retain key IT employees
Issues/Risks
Question: Re-location of Acquired Co HQ Team
Vendor Costs and costs for applications – approval to share
People -- attrition: Legacy knowledge of critical applications
Day 1 Deliverables – pick the have to haves vs. nice to haves
Not having enough resources to do the IT work. We will need significant outside investment to get IT work done
Adequate change management, training, communication as we make system changes
Cross-Team Dependencies
Change Management and communications with HR, Finance, and new Acquirer
Integration Objectives
PreClose
Review applicable Acquirer and Acquired Co. licenses for terms or conditions that may require action prior to or at closing to retain rights to use or assign
Identify Day 1/Day 30 changes in data stewardship and determine whether or where there may be regulatory compliance impact
Identify infrastructure or other changes required to support Day 1 information technology actions (ex., conversion/transfer of Acquired Co. email accounts from Google to Office 365)
Ensure key Acquired Co. information technology employees identified for retention and facilitate transition
Ensure key Acquired Co. information technology services providers are identified and facilitate retention
Ensure plans developed to ensure readiness for Close / Day 1
Develop budget for necessary information technology enhancements to support integration
Day 1
Update website, email signatures, and other digital assets to indicate "a Acquirer Company"
Convert Acquired Co. Google Mail accounts to Office 365
Migrate all Acquired Co. shared and cloud drives to Office 365
Provision and provide workstations to all on-boarded Acquired Co. employees
Provide Active Directory (AD) Accounts, Acquirer Office Productivity/Office SharePoint, 365, HCM, and ERP access as appropriate to on-boarded Acquired Co. employees
Provide additional capacity and hours to Corporate IT help desk
Day 30
Convert Acquired Co. CRM data and ERP customer records
Facilitate conversion of ERP data
Evaluate enhancement or replacement of local IT support resources ...
Related Presentations