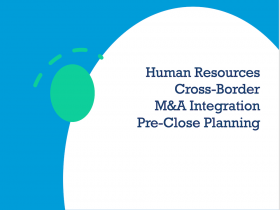 Register 2 months in advance and save $1,000.
Agenda
Business Continuity Critical
Key Integration Challenges as Close Approaches
Efforts Made to Stabilize Acquired Co.
HR Issues to Address
Integration in 3 Phases
Pre-Close
Breakout Purpose and Objectives
Business Continuity Critical
Ensure in-market products and R&D pipeline performance on-track
Maintain high levels of service to customers
Retain talent
Ensure "Day 1" transition and seamless integration thereafter
Key Integration Challenges as Close Approaches
Business continuity
Talent retention
Employee engagement and clear communication
Acquired Co. HQ
Significant restructuring of functions and facilities required
Managing complexity of multiple groups experiencing different transitions
Acquired Co. Sites
Managing the complexity of Acquired Co's regional and local Marketing, Development and Supply Chain
Preparing local stakeholders
Negotiations with country works councils across Europe
Managing local stakeholders as well as media on Day 1 and beyond
Shared services
Ensuring adequate support for complex mix of activities at Acquired Co. HQ
Sorting out interdependencies between Acquired Co. BUs at many sites
Developing shared service agreements between Acquirer divisions ...
Related Presentations