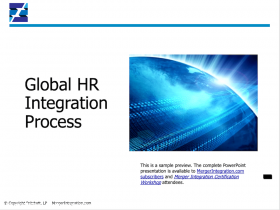 Register 2 months in advance and save $1,000.
Agenda
Meeting Objectives
Communication Restrictions - EMEA
Translation Process
Distribution Process - EMEA & AP
Distribution Process - AP
Communication / Translation Process
HR Recommendations - Organization Structure
HR Recommendations - Processes
Meeting Objectives
Communication
To integrate EMEA into the Acquirer's communication process
To identify translation needs and define process
Clarify implementation communication expectations and deliverables for October through December 2024
Human Resources
Recommend an HR organization structure for EMEA
Identify synergies among HR processes.
Communication Restrictions - EMEA
We must take additional precautions for confidentiality when communicating in EMEA and about EMEA in other regions.

This is because we must communicate first with the works council for their opinion on our proposals. Specifically, the works council must provide an opinion on:

All organizational structure changes (e.g. plant closings, moving work from one location to another, etc.).
Impact on headcount (organization charts restructure, reductions)

Our communications, (all documents), should not mention that any "decision" has been made that impacts EMEA. All plans should be communicated as proposals to avoid legal action of works council and trade unions.

In this type of action, the responsibility of the company, but also of the personal responsibility of managers can be implied.

Please ask the implementation communication/Human Resources leader to review all communications regarding the integration/implementation...
Related Presentations