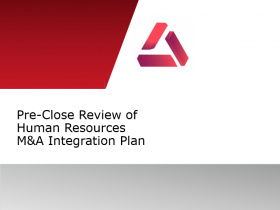 Register 2 months in advance and save $1,000.
Meeting Objectives
Final review of the HR game plan prior to close... between the players who have been involved in all the planning to date... and the players who will be involved in the implementation.
Agenda
Human Resources Charter
Key Goals of Integration Planning
Integration Planning Underway Past Five Months
Interaction Below VP Level Limited Pre-Close
Pre-Close Significant Efforts Made to Stabilize Acquiree
Key Integration Challenges as Close Approaches
Thorough Planning, Close Collaboration Integration of Compensation and Benefits
Most Acquiree C&B Policies "Grandfathered" But A Few Will Not …
A Phased Approach the Cultural Integration: Building What Has Worked Well in The Past
Human Resources Charter
Mission
Ensure integrated change management approach in collaboration with communication team to facilitate communication, employee engagement and culture assessment.
Provide guidance to the design of the new division organization structure
Participate and facilitate the appointment of EC members and next level
Evaluate due diligence findings including the status of HR operations including practices, policies, structure and service delivery
Facilitate selection, retention, severance and benefits programs/processes
Limit employment liability
In-Scope
All HR personnel
All people related issues
Deliverables
Communication & employee engagement plan, in collaboration with communication team, to address pre & post change of control
Cultural assessment and implications for new division
Complete analysis and evaluation of HR operations, recommendations and impact on new division
Identified and put in place programs and processes for Day 1, 3 months, 6 months, etc., such as: Staffing process for selecting, retaining and separating Acquiree employees, training of managers.
List or critical talent & retention mechanism
Performance based assessment and selection process
Achieve synergy targets and timelines
Tools and processes to orient Chiron employees to Acquirer including management communication toolkits, training, etc.
No/limited employment liability
Out of scope
Temps, consultants and contractors
Hot topics/urgent issues to be solved
Retention of key people for business continuity
Access to Acquiree personnel related information
Access to key HR personnel
Create governance in regard to assessment, selection, employee status and compensation/retention management...
Related Presentations