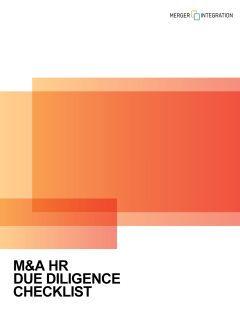 Register 2 months in advance and save $1,000.
60 HR Due Diligence Tasks
HR staffing and its responsibilities
HR reporting relationships
Significant layoffs or closings in the past, progress or being contemplated
Employees permitted and/or encouraged to work full or part time at home
Executive search firms utilized. The firms and fees paid. Searches in progress
Business's pay scales or rates and benefit costs relative to competitors
Status of litigation or potential litigation
Plans, either contemplated or in progress, to modify or cancel any benefit programs for existing or retired employees
Compensation and benefit plans compared to Acquirer's
Summary of any benefit and compensation plans and/or agreements that may cease if there is a change in control or ownership of the business
Benefits and the funding source for any terminated or retired employees, such as salary continuation, health and life insurance, club memberships, recreational facilities, transportation, etc. ...
Related Content