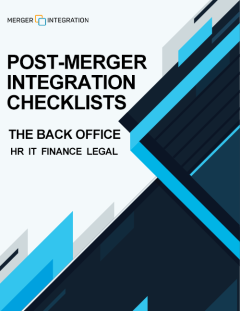 Register 2 months in advance and save $1,000.
Post-Merger Integration Checklists for the Back Office
Excerpt from IT Checklist
Software / Applications
Obtain list of software contracts / licenses owned (enterprise licenses as well as departmental / individual licenses)
Update vendor contracts / licenses for software
- Develop list license information (duration, costs, terms, items included, etc.)
- Review list for consolidation opportunities
Identify software / application requirements to align between organizations (e.g., financial, CRM, ERP, Email, etc.)
- Develop migration plan for alignment
Identify any software currently in development or planned
- Determine status of development activities (progress, % complete, money committed, remaining activities, etc.)
- Develop recommendations for existing development activities (continue, end, adjust)
IT Operations
Is there a Help Desk and if so, what level of support is provided?
- Are outside resources utilized to support Help Desk issues / requirements?
- What outside resources are utilized to support help desk issues / requirements - if applicable
Obtain annual IT budget (Cap Ex and operational)
Review past 3 year's budgets for results (planned vs. actuals)
Define process for capturing / tracking monthly and annual budgets
Define process for budget development and approvals
Obtain contractor / supplier lists
- What products / services do they provide?
- How are contractor / supplier agreements tracked and managed?
Identify IT key operating processes
- Identify IT process areas to align
- How are changes (network / software) evaluated and managed?
- Is there a formal Change Management process in place?
- Identify Change Management activities required for alignment between organizations
- Develop and initiate required plans to manage network / software changes
Identify best practices to share between companies...
Related Content