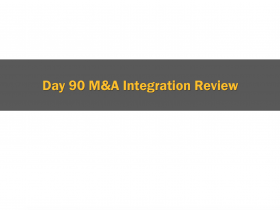 Register 2 months in advance and save $1,000.
Methodology
Post Acquisition Review Questions Centered on Broad "Newco" Topics
Do you think we are successfully executing on the new vision and values?
Are the structure and cost recommendations for your area right? What work remains to get the new Acquirer organization optimized?
Have we done a good job of choosing the "right way" where it made the most sense?
Where do we still have challenges and opportunities?
Interviews
All original Team Leads and SC members were interviewed
Questions were sent in advance so people could prepare
Answers were aggregated and kept anonymous
Output was organized by topic into recap slides for each question
Common Themes
Everyone still very positive, and very complimentary of the IMO process and SC leadership to date
There is still much work to do on delivering on "simplicity" but think overall we are driving the new vision home
Anxious about work involved with divestitures
Integration pace was brisk but helped people stay on task
Corporate functions at capacity
Good so far but ability to pull off systems conversions and continued process optimization will determine ultimate integration success
Differences between the 2 organizations are becoming more clear (e.g. decision making styles)
People realize there's "more work to do than we've done" and are challenging non- essential work given bandwidth concerns and resource limitations
Positives in terms of what we have accomplished outweigh the negatives
People see a lot of change and are wondering if we need more formal change management programs
Leads want to see this output and understand SC's reaction and next steps
Going Well and Not Going Well per Responses to Each Question ...
Related Presentations