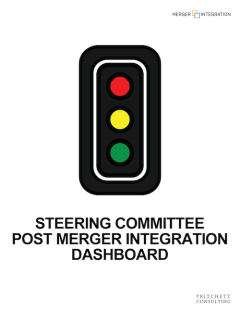 Register 2 months in advance and save $1,000.
The steps to create an integration scorecard and the categories to cover, plus an example.
A well-designed integration dashboard will include several categories of metrics:
Financial
Project
Operations
Market/Customer
The steps:
1. Identify the key inputs of the integration scorecard:·
The deal drivers
Synergies identified during due diligence
Any best practices data or benchmarks
2. For each category of metrics, identify specific quantitative targets:
Financial: Degree to which the integration creates economic value. Common targets include revenue growth, profitability increase, improved operating margins, and cost reduction.
Project: Effectiveness of both the IMO and Integration Manager at achieving their defined goals. Common targets include performance to plan/timelines, adherence to governance processes, and communications effectiveness.
Operations: Degree to which the integration rationalizes assets and achieves desired economies of scale. Common targets include cycle time reduction, inventory/purchasing costs reduction, headcount reduction, and asset utilization improvement.
Market/Client: Degree to which the integration enhances market image and expands market share. Common targets include client satisfaction, key customer retention, and market share increases.
3. Make your integration scorecard an integral part of progress reporting. Develop a variance analysis process that identifies the source/cause of performance gaps.
4. Link the overall scorecard to each integration team's scorecard. Tightly align each integration team's performance expectations to their individual team's scorecard ...