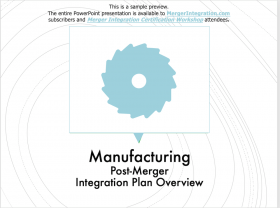 Register 2 months in advance and save $1,000.
Agenda
Objectives
Summary of Synergies
Plan Implementation
Targets
Headcount Reductions
Plans
Risks
Objectives
Leverage Facility Strengths
Focus on Core Competencies
Reduce Cost
Labor (direct, indirect & salary)
Overhead (fixed & variable)
Warranty
Eliminate Excess Capacity
Develop a Lean Organization Structure
Summary of Synergies
Projects / actions
Headcount Adjustments
Assembly Acq. Co.
Assembly Acquirer
Inventory Reduction Acquirer
Inventory Reduction Acq. Co.
Operating Exp Review Acqd. Co
Operating Exp Review Acquirer
Ratio Adjustment
Downsize Facility
Warranty Reduction Acq. Co.
Outsourcing - Acquirer
Outsourcing - Acqd. Co.
Strategic Plan (Lean Focus)...
Related Presentations