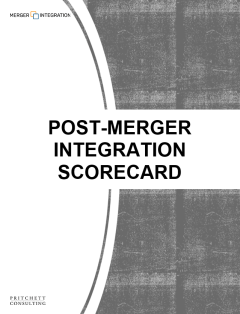 Register 2 months in advance and save $1,000.
Instructions
The latest version of the Integration Scorecard/Milestones will be sent to you via email each Monday. This version will reflect all updates reported through 5:00 pm (Central) the previous Friday.
Send all weekly updates to Bill Smith at bsmith@acquirer.com
Make your updates directly to the latest version of the Scorecard/Milestones. This allows us to cut and paste. There is no need for you to recreate your milestones elsewhere or retype them each week. Just make the changes you want to make, save the file, and then attach the saved file to an email. Please put your team's name in the subject line of the email along with the "as of' date. Example: Engineering Update 12Jun25.
When you submit your updates, please make sure you've reviewed all due dates for your team. If you submit an update with past due milestones, those items will be flagged as yellow indicating that they are overdue.
Please enter a % complete for each milestone on your team's list. If you have not begun work on a milestone yet, fill in 0% in the % Complete column.
Once you complete a milestone, fill in the actual date completed, fill 100% in the % Complete column, and turn the box to blue.
If you must revise a due date, type it into the Revised Date column. You may not change the Forecast Date. We need to see when dates are slipping.
It's fine to submit your updates any day of the week. Just remember that any updates you send in after 5:00 pm Central on Friday will not be reflected in the Scorecard/Milestones you receive on Monday.
We realize that your team is busy doing many things, but the Integration Scorecard and Milestones are important tracking and reporting tools that deserve your attention. The latest version of the scorecard will be submitted to the Steering Committee each week for review.
If you have any questions about the Scorecard or Milestones, please contact Bill Smith at 999-931-1577. Thanks for your help ...