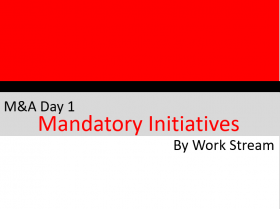 Register 2 months in advance and save $1,000.
Agenda
Day 1 Mandatories Summary
Day One Mandatories
IT
IT Day 1 Status
Finance
Communications
Legal
HR
East Operations
West Operations
Real Estate
Corporate
Day 1 Mandatories – IT
Initiatives
Day 1 Operations
Interface Acquired Co. Finance to SAP – Day 1
Lawson HR and Month-end Day 1 Changes
Email / Calendaring
SharePoint (sharing documents)
Active Directory / GAL – name, phone, email
Instant Messaging, Skype for Business
Network Integration to support Day 1
Day 1 Communication: Collaborate with Corporate Services
Acquired Co.com redirect: Collaborate with Corporate Services
File System Access
Test Application access (e.g. SAP, Lawson, PeopleSoft)
Acquired Co. Office Auto-Attendants
Acquired Co. Wireless access at Acquirer
Acquired Co Network Access at Acquirer
Acquired Co. Auto-Attendant Changes
IT Integration Roadmap and Program/Project plans
Analysis of Vendor contracts for new Acquirer contract negotiations
Develop IT Vendor communication plan
Day 1 L1/L2 onsite Acquirer support
Define Day 1 cross-company application access needs
Complete IT Organization structure
IT Day 1 Status
Infrastructure test results successfully completed:
Cross company access to both companies' SharePoint
Email/Exchange routing and updating of Acquired Co. users to @Acquirer.com email addresses
Email to mobile devices and external webmail access
Sending to combined Distribution Lists
Combining Acquirer and Acquired Co. address books
Cross company Lync/Skype: Calling, screen sharing
Acquired Co. access to Acquirer Flexi – Partial Pass; not an issue for Day 1
Acquired Co. access to Acquirer PeopleSoft
Spot testing of Acquirer SAP - No issues reported
Spot testing of Acquired Co. Financial Applications – No issues reported
Acquired Co. printing to Acquirer printers
Acquired Co. major applications spot testing – No issues reported
Acquired Co. wireless access at Acquirer
Acquirer wireless access at Acquired Co.
We have identified NO show-stoppers to moving forward with Day 1...
Related Presentations