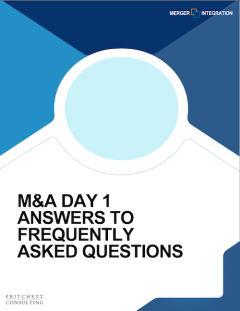 Register 2 months in advance and save $1,000.
Excerpt from Answers to Employees FAQs
Is the purchase/sale of Acquiree to Acquirer finalized?
Yes. The U.S. Department of Justice (DOJ) and Acquirer have entered into an agreement which permitted the acquisition to proceed. The Acquirer and Acquiree have both received Board and Shareholder approval and we have officially closed the deal.

What Acquiree offices are included in the sale?
All Acquiree's operations in North America, Europe, and Asia are included in the deal.

Do you anticipate closing any Acquiree or Acquirer Company facilities? Do you anticipate job losses due to the merger?
We have formed global integration teams that include members from both Acquirer and Acquiree. They will look at where functions, resources, and processes can be combined in order to reduce cost, better serve our customers, and improve efficiency. There will be some job losses in areas of overlap. As soon as we know of the changes, we will communicate them.

When will the organization structure be defined?
We expect the top two levels of the company to be defined within the next three weeks. In the next two months, the rest of the organization structure will be defined after integration teams analyze the synergies in their areas.

If Acquiree and Acquirer consolidate overlapping functions such as HR, Sales, Service, Finance, Training, Engineering, etc., will I have a job?
Over the next two months, senior management and the integration teams will determine where jobs will be eliminated. We remain committed to communicating any and all changes as soon as possible after they are finalized.

What is the probability that we will be asked to relocate?
At this time, we do not know, but we do know there will be opportunities for Acquiree employees at Acquirer locations.

How long will the integration take?
The integration is being done in two phases. Phase 1 will focus on the Americas during August. Phase 2 will focus on EMEA (Europe, Middle East, Africa) and Asia Pacific starting in September. We expect most of the integration to be completed by February next year ...