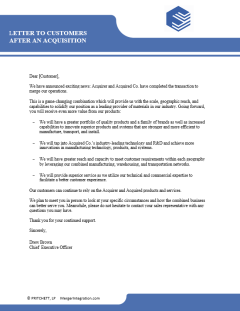 Register 2 months in advance and save $1,000.
Announcement Letter (or Email) to Customers
We have announced exciting news: Acquirer and Acquired Co. have completed the transaction to merge our operations.
This is a game-changing combination which will provide us with the scale, geographic reach, and capabilities to solidify our position as a leading provider of materials in our industry. Going forward, you will receive even more value from our products:
We will have a greater portfolio of quality products and a family of brands as well as increased capabilities to innovate superior products and systems that are stronger and more efficient to manufacture, transport, and install.
We will tap into Acquired Co.'s industry-leading technology and R&D and achieve more innovations in manufacturing technology, products, and systems.
We will have greater reach and capacity to meet customer requirements within each geography by leveraging our combined manufacturing, warehousing, and transportation networks.
We will provide superior service as we utilize our technical and commercial expertise to ...