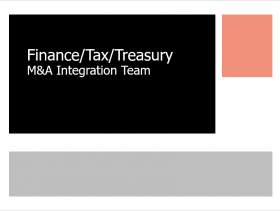 Register 2 months in advance and save $1,000.
Content
Mission Statement
Non-Negotiables
Phase 1: Americas
Phase 2: EMEA
Mission Statement
We will plan and execute the integration of the finance functions of our companies. We will complete the integration quickly and in a manner that supports the needs of the other Integration Teams and upper management of the combined organization.
We will also be responsible for:
Assimilation of the EVA philosophy into the Acquired Co. organization
Tracking of synergies (cost and EVA) for all Integration Teams
Non-Negotiables
Payroll and benefits are centralized in the US
Acquired Co will adopt the Acquirer health insurance program
Business planning will be the Acquirer process
Hyperion will be the financial reporting system used
Treasury will be centralized
Risk management will be centralized
Peoplesoft will be implemented at Acquired Co within 12 months
Performance management & succession planning processes will be centralized
Fiscal year is December 31
Phase 1 Integration in Americas: General Overview
Purpose - Establish a finance organization that meets its service needs as efficiently and cost effectively as possible.
Objective - Adopt best practice processes of both companies and implement action plans to adopt those processes and gain expected synergies.
Value Drivers - Streamline activities, centralize functions, and eliminate redundancies.
Main Synergies - Reduced headcount and elimination of duplicate outside services.
Main Costs - Severance...
Related Presentations