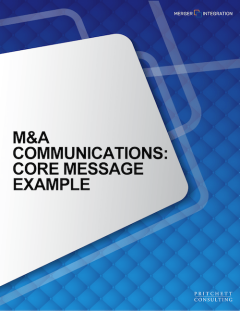 Register 2 months in advance and save $1,000.
The Core Message Document is a set of bullet points and short paragraphs that serves as content for various announcement communications. The following is an example:
General Information
THE COMPANY, Inc. and COMPANY B have agreed to merge. The deal, contingent upon regulatory approvals, is expected to close by June 1. At the time of closing, shares of THE COMPANY stock (NASDAQ: XXXX) will be exchanged for equity in COMPANY B.
THE COMPANY started in 2018 as a technology firm focused on delivering business services. We at THE COMPANY have accomplished our aggressive growth goals by providing a wide range of client services.
This is not a merger whose success depends on cost cutting – it is instead dependent on our ability to grow the combined company together.
This deal will allow us to grow and expand our service offerings in North America and position the company in the Top 10 Managed Service Providers with a clear goal to be in the Top 5 by 2028.
An integration team, consisting of representatives from COMPANY B and THE COMPANY, will be responsible for developing an integration plan that fully captures the opportunities created by the merger...