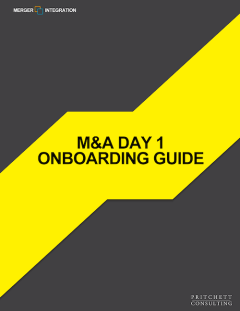 Register 2 months in advance and save $1,000.
DAY 1
Company B has acquired Company A. Today, marks the beginning of our new organization. This Onboarding Day 1 Guide is designed to help you understand changes that are taking place (or will take place) and any actions you may need to take.
The purpose of this guide is to explain:
What you need to know now (Now: this week)
What you'll need to know and do in the very near future
When other changes will take place and when you can expect to hear more about them
You will continue to do your job the same way you did before close. As we continue to integrate our organizations, we will inform you of changes, and if your assistance is needed. This guide covers company-wide information. Your manager will cover information specific to your function.
The following pages outline the following areas:
Employment Basics
Technology Support
Travel, Expenses and Purchasing
Getting around Company B
To ask questions about the integration, send an email to Questions@URL.com . FAQs will be posted on our intranet site.
This Day 1 Guide is intended to apply to Company A employees. Company B employees will receive separate documentation describing the impact of the merger of the two companies. Nothing in this memo or in the Day 1 Guide is intended to or should be construed to limit the right of Company A or Company B (collectively, the "Company") to change or terminate the provisions or benefits described in these documents. The Company reserves the right, at its sole discretion, to modify, suspend or discontinue the procedures, programs, benefits or other provisions in this memo and in the Day 1 Guide. If there is a conflict between anything in these documents and a benefit plan document, the benefit plan document will control. All employees of the Company are employed "at-will," and nothing in this memo or the Day 1 Guide is intended to, or should be construed to, change that status or to guarantee employment for any set length of time.
Areas Covered
Employment
Benefits
Payroll
Paid Time Off
401K
Support Help Desk
Support - Applications
Email
Mobile Devices
Internet
Web Presence
Email Signatures
Password Policy
Phone Extensions
Network Resource Access
IT Security Policy
Log-In Information
Audio and Web Conferencing
Video Conferencing
Spam Filter
Travel and Entertainment
Expense Reports
Equipment Ordering
Office Supplies
New Business Cards
Employee Badges
Telephone and Voicemail Greetings
Facilities
Employee Directory
Training Classes
Tuition Reimbursement
Policies