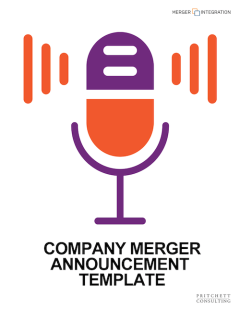 Register 2 months in advance and save $1,000.
Sample Merger Announcement
The following includes the information to cover when announcing a merger or acquisition plus the guidelines to follow when writing the announcement.
Title:
Acquiring Company to Acquire Acquired Company (possibly mention price)
Subtitle:
Other notable information
Paragraph 1: Announcement
Acquiring company announced today…
Paragraph 2: Investor Relations
Paragraph 3: Why acquisition was initiated
How this will add value to acquiring company
Paragraph 4: Information about Acquired Company
Location
What products/services/technology the company offers

What market it serves
Paragraph 5: Quote from Acquiring Company CEO
Paragraph 6: Quote from Acquired Company CEO
Paragraph 7: Financial Implications
How this deal will be advantageous to the market the acquiring company serves
Paragraph 8: Specifics of Acquisition
How operations will be integrated
How the acquired company's products will be integrated
How will this affect customers
Paragraph 9: Background
Acquired company's background information (boiler plate)
Acquiring company's background information (boiler plate)
When writing a merger announcement, make sure the content and the format of the message are clear. Keep the following guidelines in mind:
Content
Provide Substantial Information—The less work the reporter has to do in following up on your story, the more likely it will be published.
Offer Real News—A press release is not the place to write an advertisement for your business. Real news is something that is unusual or noteworthy.
Be Direct—A good press release should answer the who, what, why, when, where, and how questions as briefly as possible.
Stay Objective—Do not offer opinions. Just state the facts.
Avoid Buzz Words, Acronyms, and Jargon—Avoiding company or industry jargon and technical talk will help reporters understand your news more effectively.
Format
Type the release double spaced on regular size paper.
Be brief—Try to keep it to one page.
Emphasize the most important information first.
Vary paragraph lengths.
Allow wide margins for editors to write.
Put the release date at the top of the page, as well as the company's identification information.
Check carefully for spelling, grammar, etc.
Know the reporting deadlines. If a release arrives late, it will not be published