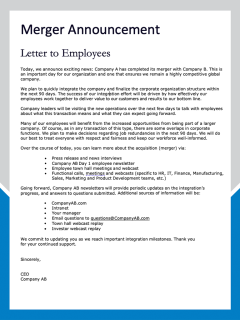 Register 2 months in advance and save $1,000.
Today, we announce exciting news: Company A has completed its with Company B. This is an important day for our organization and one that ensures we remain a highly competitive global company.
We plan to quickly integrate the company and finalize the corporate organization structure within the next 90 days. The success of our integration effort will be driven by how effectively our employees work together to deliver value to our customers and results to our bottom line.
Company leaders will be visiting the new operations over the next few days to talk with employees about what this transaction means and what they can expect going forward.
Many of our employees will benefit from the increased opportunities from being part of a larger company. Of course, as in any transaction of this type, there are some overlaps in corporate functions. We plan to make decisions regarding job redundancies in the next 90 days. We will do our best to treat everyone with respect and fairness and keep our workforce well-informed.
Over the course of today, you can learn more about the acquisition (merger) via ...